ABOUT THE BREAST CANCER RESEARCH FOUNDATION®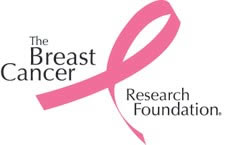 Since its inception in 1993 The Breast Cancer Research Foundation® (BCRF) has raised over $320 million to support the most advanced and promising breast cancer research that will help lead to prevention and a cure in our lifetime.
In 2010-2011, our grants are supporting 172 dedicated researchers at major medical institutions across the United States, Canada, Latin America, Europe, the Middle East, and Australia. If not for BCRF, many facts about genetic basis of breast cancer wouldn't be known, breast cancer stem cells would still be a mystery, and personalized, targeted therapies wouldn't currently be available.
BCRF-funded scientists are responsible for these and many other critical achievements. We continue our pledge that more than 90 cents of every dollar raised for BCRF will support breast cancer research and awareness programs. And for the ninth consecutive year, BCRF received Charity Navigator's highest rating, four stars, thus outperforming over 99% of the evaluated charities, while the American Institute of Philanthropy has awarded the Foundation its highest possible rating of A+. BCRF is the only breast cancer organization in the U.S. to receive these accolades.
.
Pledge Program
Click here to learn about the Pledge Program.